An innovation for monitoring the flow of a waterway without altering the natural environment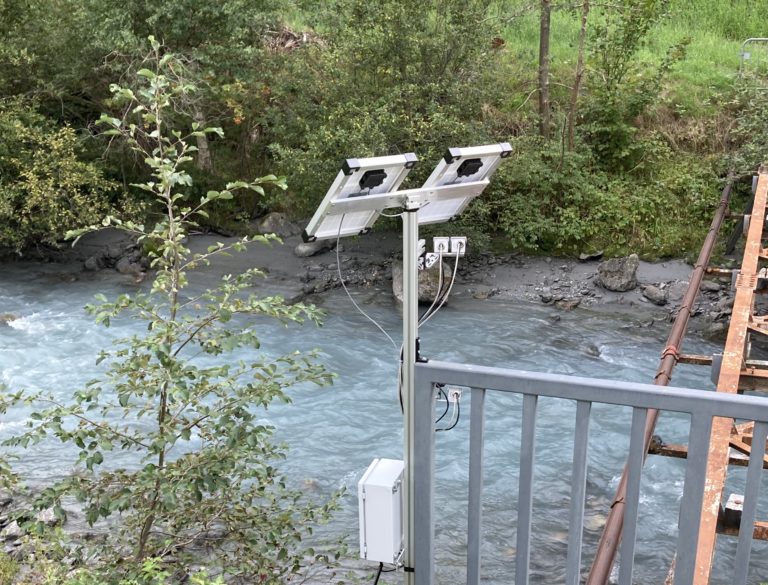 With the support of BlueArk, CSEM and Neuchâtel-based SME Precidata have developed a system for monitoring and measuring water flow rates and issuing height and flow alerts for mountain streams, brooks, and irrigation channels. Initially developed in 2021 as part of the BlueArk Challenge, the system is lightweight and mobile. Self-powered and connected wirelessly to a remote server, it is equipped with three cameras which monitor the stream continuously, all year round. The system does not alter the natural environment, and provides communities with an invaluable tool for decision-making, particularly in optimizing water use and preventing flooding.
This specific project had its origins in the BlueArk Challenge, a call for projects launched in 2021 by BlueArk. Based in Châble, Switzerland, this center is dedicated to innovation in the field of water and natural resources. One of the winning concepts, was the solution proposed by Neuchâtel-based firm Precidata and the CSEM of a contactless system designed to measure the flow rate of streams, brooks, and irrigation channels without any major work to the stream bed.
A cost-effective solution for measuring the water flow rate using real-time and logged data
The installation designed by Precidata and CSEM underwent a feasibility study in 2022-2023, and, with the support of the Canton of Neuchâtel, now features an imaging system with multiple cameras, including dedicated lighting for continuous shooting. The solution operates using energy-efficient cameras (two infrared cameras and one-color camera) which record the water flow from two different angles so that these images can be reconstructed in 3D. The system is self-powered, thanks to a solar panel and a battery. Installed on the ground near the waterway, the equipment operates 24/7, all year round, to generate, store, and wirelessly transmit the data gathered to a monitoring server.
In addition to continuous monitoring, the installation offers users the option to connect on demand to watch the waterway in real time. The system can also generate live flood warnings during exceptional events such as heavy rain or flash floods, as well as issuing alerts for high/low water level/flow rates, or drought, etc.
Optimizing water management without altering the natural environment
CSEM used its algorithmic expertise in AI and Computer Vision to adapt and integrate the algorithms for segmentation, 3D mapping and flow rate, while Precidata oversaw the integration of the various parts. The result is an integrated solution which is mobile, durable, and ready for field use. Lightweight and quick to install, even in hard-to-reach locations, the monitoring system gives users regular, accurate measurements of the flow rate of a waterway and enables the data gathered to be compared with older records in real time. Cédric Berger, CEO of Precidata states "Thanks to our system, the Swiss Confederation, cantons, municipalities and conservationists now have a tool to aid their decision-making and for modeling floods and droughts. Our solution enables them to draft scenarios to optimize water use and prevent damage."
A prototype was field tested in the cantons of Neuchâtel and Valais; in light of the excellent feedback received, the solution is now ready to be presented to potential users. If necessary, further research will be carried out with a view to its future development.
Informations complémentaires